By Christian Waters, Director, Delivery at TrueNorth
In the early 90s, during the push to develop the Windows NT operating system in record time, the engineers at Microsoft started to use early versions of the system itself. This gave them immediate feedback on any issues, and added to the motivation to stabilise the system as quickly as possible. This is a famous example of an organisation using its own products or services, which has become known as "eating your own dog food".
We deliver solutions for our customers based on Dynamics 365 and the wider Office 365 and Power Platform ecosystem, whilst using some of these products to manage our own business processes. This gives us first-hand experience of their benefits, and pain points, so we can recommend appropriate solutions to our customers for their needs. In other words, we're eating our own dog food.
Let's see how some of these processes work for us as we engage with a hypothetical Customer X who is looking for some help with a migration of their on-premise email servers to the cloud.
Leads to Leeds
The first contact point for Customer X is via the number on our website – an 0113 number that represents our physical presence in the bustling metropolis of Leeds.
This number was provisioned and is managed in the Microsoft Teams Admin portal as part of our Microsoft 365 Business Voice subscription plan.
Here we can see the main office number, as well as some direct dial numbers assigned to our staff: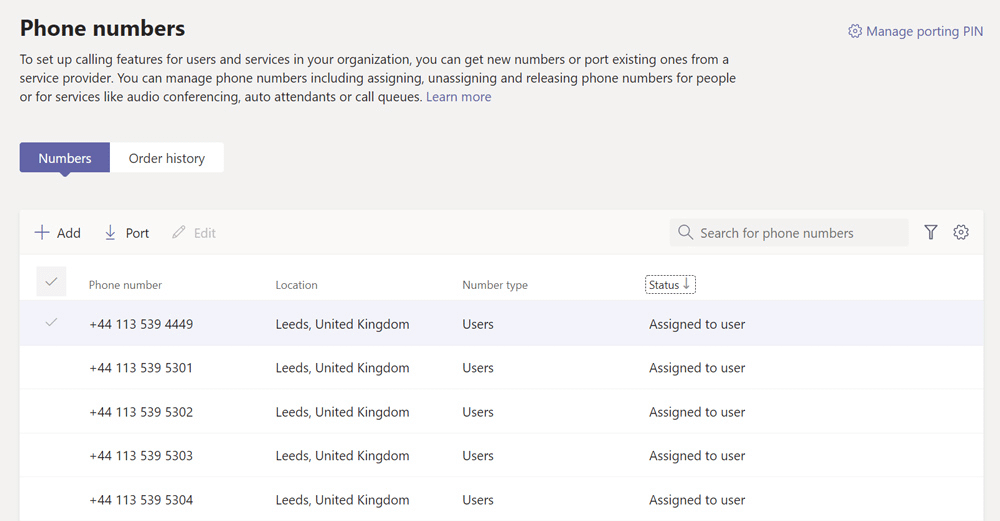 A call queue determines what happens with calls to a particular number: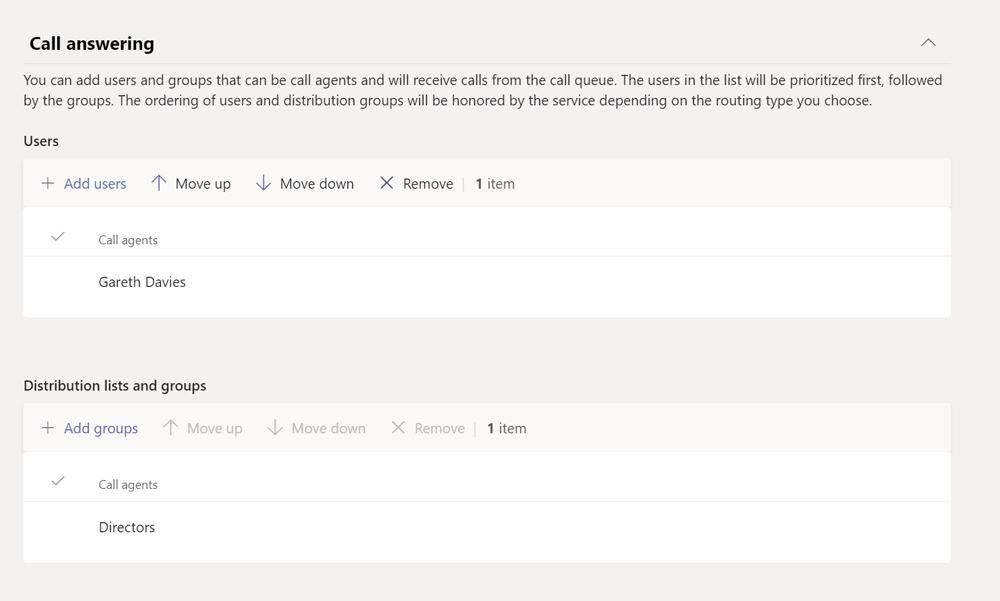 Customer X's call is routed to the dynamic (with a small d) Business Development Director, Gareth, in the first instance.
Being dynamic, he is often taking a lunch-time run over the Welsh hills and so the call is forwarded on to the other Directors.
If no-one was available to answer, a message can be left which will be speech to text transcribed and sent via email. Seems the transcription below may have been the result of a call to a wrong number but we are always interested in new verticals!

Long Distance Relationships
Customer X has heard great things about us from a mutual contact and wants to discuss his requirements. An Account and Contact are created in Dynamics 365 and the details of an initial Teams meeting are captured in the OneNote desktop application. Further emails follow, which are tracked via the Outlook Dynamics 365 App as the engagement continues.
Where did all the time go?
Customer X is in Pre-Sales stage for their prospective project which now has a name – Medusa. Its aim is to slay the multi-headed beast of an on-premise Exchange installation!
Whilst Pre-Sales is not chargeable, chargeability is always a key metric for a consultancy.  The Pre-Sales time is therefore diligently tracked against the project:

Some plugins have also been written specifically for our requirements in this area of the Dynamics solution. This ensures that the various support contracts we have are time accurately tracked on a per-case basis.
To this end, any emails arriving at the helpdesk are assigned to Cases directly in Outlook, and some plugins will then automatically create a Project Task linked to the relevant cases. This records any time spent working on the issue, and ensures we can report and bill accurately and efficiently.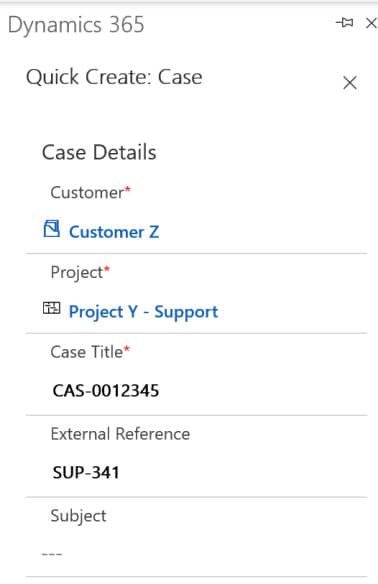 Collaboration
Customer X has some detailed specifications he wants to share. Here, the tight integration between Teams and SharePoint is used to ensure that there is a single repository of documents relating to the project and that all internal discussion is kept in a single place.
A Team is created, the documents are added, and a link shared to a diagram that needs to be discussed internally.
By @'ing the relevant resource in the discussion, a notification is sent that something requires their input. This reduces the clutter in everyone's email inbox. Here's an example:

The option of integrating Teams, SharePoint and OneNote with D365 is something we are currently looking at. Another project will be created to track the time spent on this!
The Month End
Customer X's project has started in earnest, POs are received, further project tasks are set up to record time against, milestones are planned. It is now the month end and some reporting must be done.
Firstly, various project views are exported from Dynamics in Excel. This gives a breakdown of chargeable time spent on project and support work for the creation of invoices. Of course, time spent creating invoices is also tracked so we can see if the time spent integrating our processes is saving us time producing our invoices! To help answer these questions we run a nightly scheduled refresh of our Power BI dataset:
The provides the basis for various reports on time spent and can be sliced and diced as needed. How much training was done in the last year? What is the average chargeability of all staff in the last quarter? And most importantly, how much holiday do I have left: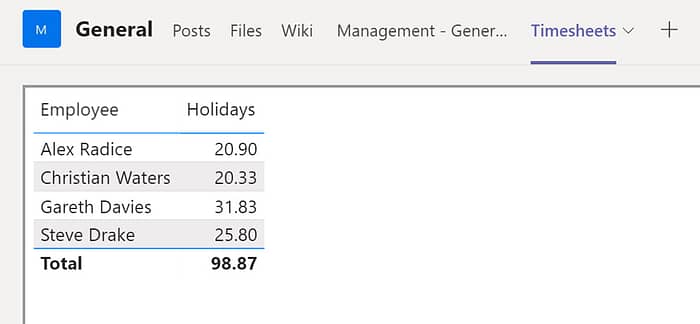 The reports associated with this dataset are surfaced in Teams, so the information is always to hand when it needs to be referred to at a meeting or other discussion.
Our Next Steps
Like all businesses, our processes are always evolving. Practices that are efficient and pragmatic at a certain scale can become time-consuming and error-prone as the business grows.
We still manage our pipeline and financial forecasting via an ever-expanding Excel spreadsheet which has started to become somewhat unwieldy. We aim to migrate some or all of this to Dynamics 365 in the future, and to extend our Power BI models and embed the key reports we refer to in our monthly reviews alongside the weekly reviews of timesheets.
We are also trialling the SharePoint Online and OneNote integrations with Dynamics 365 to truly achieve a 'single view' of all activity for a customer or project.
Further Reading
This was a brief look at how TrueNorth use some components of the Microsoft 365 platform to manage the business processes of a consultancy offering development and support services. We use the experience of 'dog-fooding' gained to improve the service we offer our customers.
More details on some of the products and integrations mentioned in this article can be found at the following links. Do please get in touch if you want to discuss whether these may be right for your business.
https://docs.microsoft.com/en-us/MicrosoftTeams/business-voice/whats-business-voice
https://docs.microsoft.com/en-us/dynamics365/project-operations/psa/overview
https://docs.microsoft.com/en-us/microsoftteams/teams-power-platfom-integration
https://docs.microsoft.com/en-us/dynamics365/teams-integration/teams-integration